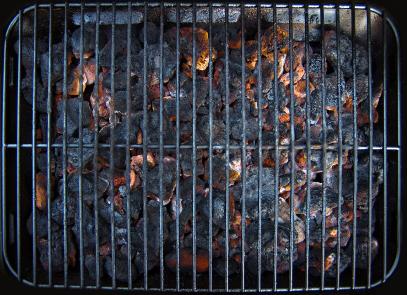 This post originally appeared in the Blue Line's 2012 April Fool's issue.
Ardent vegan and raw food proponent Shambala-Ayamsheekla Walla-Walla (nee: Judith Murphy) totally put a damper on the Sunday afternoon barbeque of coworkers Art and Debbie Hill by detailing the virtues of her vegan diet to anyone who would listen, as well as several people who wouldn't.  Party-goers were so put off by Shambala-Ayamsheekla's lurid descriptions of her former food allergies and graphic endorsements of her regular digestive functions that they quietly left the party one-by one.
"We really didn't even know what was going on until we came in with a plate of burgers and noticed that the only two people left were Shambala-Ayamsheekla (who I still call Judy) and some guy she was shaking a carrot stick at," said Art Hill.  "Next time, I hope she stays home with her juice," said Debbie.
Ms. Walla-Walla has been following the vegan diet for several days now, and swears she is dedicated to it for life.