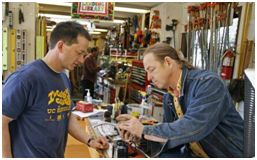 If you're a homeowner, you've undoubtedly faced a few repair projects over the years … a leaky faucet, a clogged toilet, or perhaps a broken fence post.  And being the proud 'do-it-yourselfer' that you are, you've promptly trundled off to the store each time to purchase the necessary items to fix the problem.  Depending on the project, and the inventory of your home tool selection, at least a few of these trips have likely involved the purchase of an incredibly job-specific and marvelously effective tool; such as, in the case of the broken fence post, a post-hole digger (a simply wonderful invention).  And yet, despite your gleeful anxiousness to race home, get started, and revel in this tool's spectacular effectiveness, I'm willing to wager that more than once you've stood in line at the cash register, waiting to plunk down your hard-earned $49.99, and realized you are having that old familiar sinking feeling: 'Gee, I wonder if I'll ever use this tool again…'
You're not alone.
In fact, you probably have far more companionship in this experience than can be said for the tens of thousands of poor, lonely post-hole diggers currently sitting quietly in dark corners of garages across America, each patiently waiting to show their worth when another of your fence-posts someday needs to be dug up and replaced – even if that 'someday' is five years from now. Meanwhile, in most towns, somebody, somewhere, is in need of a post hole-digger almost every day.
In short, we don't all need to own post-hole diggers. And similarly, we don't all need to own 20-foot ladders to get to those gutters clean-outs once a year, or tree-trimmers for the pruning we do once every five years, or tile-cutters for the once-a-decade when we get sufficiently inspired by a looming visit from our mother in-law to redo our guest bathrooms. The redundancy of each of us owning such items is both a waste of money and a waste of resources … not to mention how much space these things take up in our cluttered garages, workrooms, and basements.
Thankfully, there's a simple solution. It's called a Community Tool Library. As the name suggests, a Tool Library is a place where citizens can borrow tools from a shared tool inventory, thereby reducing our collective need to purchase redundant, seldom-used tools, and providing new opportunities for those with limited tool access.
And of course, you don't have to be a homeowner to use the Tool Library. Whether you're working on a community service project for a local nonprofit, building an affordable home with Habitat for Humanity, cleaning up a park with your church group or neighborhood association, restoring a trail with a local environmental group, or merely building a small piece of furniture – the Tool Library is there to lend tools to any individual or nonprofit organization that needs tools to complete their work.
Community Tool Libraries – A proven concept
Tool Libraries currently operate in more than two dozen cities nationwide, including: Austin, Berkeley, Buffalo, Cedar Rapids, Columbus, Kansas City, Missoula, New Orleans, Oakland, Philadelphia, Portland, and Seattle. All of the tool libraries enjoy enthusiastic support from their communities and report rapidly growing consumer demand. Portland, Oregon, for example, has just opened its third community Tool Library in the last five years. The Berkeley and Columbus Tool Libraries have each been operating continuously for more than 30 years, with Berkeley loaning more than 50,000 tools in 2009. To watch a recent ABC News feature story on the West Philly Tool Library please click here.
A Boulder Tool Library
The time has come to bring a Tool Library to our fair city, and on behalf of the Center for ReSource Conservation (CRC), I am pleased to announce the final phase of development for the launch of the Boulder Community Tool Library. The mission and objectives for the Boulder Community Tool Library are as follows:
To lend a broad array of basic tools to citizens and civic organizations

To provide a simple, practical, and vital community service: affordable tool access

To build community equity with a bulk approach to resource sharing

To reduce community purchasing burdens and associated waste; thereby lowering our collective resource footprint

To support the tool needs of community service organizations (such as public schools, civic agencies, neighborhood associations, churches and faith-based entities, low-income housing builders, environmental groups, urban agriculture and community gardeners, open space caretakers, etc.), thereby helping them better achieve their public service missions

To provide educational opportunities through 'how-to' classes and DIY workshops

To open the Boulder Community Tool Library to all citizens of Boulder County
What kind of Tools will be available at the Tool Library?
Basic construction tools (carpentry, plumbing, concrete, masonry)

Landscape and gardening tools

Painting tools and ladders

Electrical and basic power tools

Cleaning and custodial tools

Safety equipment
'One-Stop Shopping' for Tools and Materials
The Tool Library will launch at the current site of the CRC's

ReSource Yard

, thereby building on the success of the

ReSource

program, which offers a wide array of used and recycled building materials at affordable prices

Together, the Tool Library and

ReSource

present a unique opportunity to provide customers with 'One-Stop Shopping' for the bulk of their tool and material needs
The Tool Library is currently targeted for launch in the summer of 2010. We've secured $6,000 in matching funds, putting us halfway to our current target.  The CRC is a 501(c)(3) non-profit organization, donations are tax-deductible. If you have any questions about the Boulder Tool Library, or would like more information about how you can further assist our efforts, please contact Adam Jackaway at 720-771-9813 or email adamjackaway@yahoo.com.
CLICK HERE to support the Tool Library launch
(Please write "Tool Library" in the comment box)