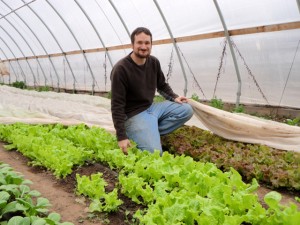 "Brownlee maintains that one indication of an increased awareness of food localization in the county is that the number of restaurants actively buying local food has increased from eight in 2006 to more than 80. He could not quantify exactly how much food each establishment purchased from local growers, especially since orders change with what's seasonably available, but said that Transition Colorado sourced its information directly from farmers.
"Brownlee envisions a future where many small farms, ranging from 4 acres to 50 acres in size, provide for the needs of Boulder County's residents. This is a vision that resonates with Guttridge.
"'The biggest dig against local and organic is, 'You'll never feed the world' because you can't do this kind of farming on 1,000 acres,' said Guttridge.
"'My response is, we don't need three 1,000 acre farms. We need 1,000 3-acre farms. And that's how you feed the world – start off feeding your neighborhood and keep growing it from there. I mean I have no interest in feeding the world. I have an interest in feeding Boulder County,' he said."
Read the entire article at NewWest.net: Challenges of a Colorado Local Food Initiative.