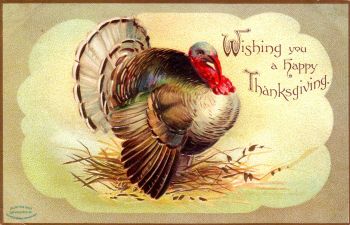 What is Thanksgiving without food? There is no way to separate these concepts because the original intent of the day was to give thanks for the bountiful harvest, to gobble up the perishables that wouldn't last through the winter, and to transition our tummies for the upcoming months of eating cured meats and root vegetables. No matter that nowadays we can eat perishables year-round—our brains and our bodies still want to make the switch.
Two years ago, my husband, my son, and I volunteered to deliver Thanksgiving meals to the underprivileged. We had delivered food for Meals on Wheels several years earlier around Boulder but never at Thanksgiving, and this time we were visiting my mother-in-law in Bemidji, Minnesota. We thought it would be a great opportunity "to give" and to show my then-eight-year-old son that there were other people in the world who didn't live as comfortably as we did, with multiple Lego sets scattered around the house, a nice flat-screen TV, food stashed in the fridge and cupboards, and, most importantly, money in our pockets to go out at whim and buy more and more of these things.
We were assigned only four deliveries in a mobile home park outside of Bemidji. It was a chilly day but not frigid. The lake hadn't iced over, yet, and bald eagles were perched in the trees where they could search, or "fish," for their own Thanksgiving dinners. Still, you could see your own breath.
My eighty-two-year-old mother-in-law escorted us into the trailer park, and she would remain in the idling car (with the heater cranked) while we made the deliveries of turkey, dressing, potatoes, corn, rolls, and milk. It was a modest meal, not a feast at all by my standards, but something you could unpack on the table like Chinese-food take-out. We were very jolly and felt really good about ourselves as we made the first delivery: two meals to a father and son. They were very grateful, smiled, slightly bowed, wished us a happy holiday, and then shut the door as we danced our way back to the preheated car.
"Awesome!" my son said. "Those people are going to be able to have Thanksgiving!" He instantly felt he had done something good, when two minutes earlier he had no idea what was going to happen, or why we were even considering delivering food to people. It was a completely new thing for him: thinking of other people.
"Cool!" my husband agreed. He exuded a bit of smugness, as he understood he had helped his son gain a larger view of the world.
"Right on!" is what I think I said. We high-fived each other across the front and back seats. "Onward!"
"This is great!"
"Wow!" We were really puffed up—very proud.
The next stop was at a middle-aged woman's trailer. Maybe she was a bit older than myself. She was alone and quiet and thankful. There was a part of me that went back to my childhood and hoped for a piece of fudge or a cookie as a reward for doing something kind for an older person, but there was no such thing on this day. The reward was our feeling of accomplishment. What this woman gave instead of candy was a silent space, a look, a nod. I had to savor that like I would a chocolate candy—it tasted sweet, even kind of bittersweet, and it was humbling. It wasn't at all like trick-or-treating, where we would've left each house with bags of stuff. Instead, we were the treaters, and she was the treatee. You have to do this kind of role reversal many times before you get used to it; it's not how we normally live.
Once again, we returned to the warm cocoon of the car. We were smiling, but we were more subdued than we'd been after our first delivery. We still reveled in our good deed, but now we were starting to feel the routine of giving, the part where you start to question what you're doing. I mean, why freeze your butt off and deliver half-warm food for people who can't even tell you thank you? What's the point? Let's deliver the last meal and get this over with! Then, we can go back home and have hot chocolate and eat a really good meal!
We still high-fived each other and yucked it up and were really full of ourselves. My mother-in-law giggled at our excitement. She had delivered Thanksgiving meals many times, and she was content, this year, to remain in the car and let us do the job.
She pulled up outside our final stop, and we three got out of the car, resigned to continue the charade of having a good time.
We knocked. No answer. We knocked again. We waited. No answer. Finally, we pivoted on our heels and started to head back to the car. We had taken just a few steps when the door opened slowly behind us, and a feeble old woman greeted us with a big smile on her face.
"Happy Thanksgiving!" she beamed.
"Happy Thanksgiving, to you, too!" we all agreed, yes, it was a most happy day. "We have a Thanksgiving meal for you."
My husband slipped around her and placed the box on the table inside the door. It was obvious this thin, frail woman wasn't strong enough to carry it herself.
She was so grateful, she couldn't help but continue to spew: "Thank you, all, so much! You know this is my last Thanksgiving meal. My doctor told me that I have only four weeks to live. I'm so happy, my son and his family are going to show up soon, and we can all share this. Thank you, so much! Happy Thanksgiving to all of you."
We were stunned. This time, we were the quiet ones. If tears didn't start rolling out of our eyes at that very moment on her porch, they came shortly after. I stumbled over my words and said something profound like I was glad she had family nearby. My husband and son agreed. We continued to stand there, not knowing what to say. I thought, should I hug her? Should I offer to do anything else for her? I remembered one woman I delivered Meals on Wheels to in Boulder always asked me to do odd jobs when I arrived: move her garbage cans, replace the storm window on the front screen door, rake leaves. What do you do for a woman who seems happier about her last Thanksgiving meal than I've ever felt about any meal I've ever eaten? And how was she going to split this measly box of food between so many people? More importantly, how can I walk away from a person who isn't crying out for help but so obviously needs more than a free meal, more than I can ever give her?
We didn't want to leave the porch, but after her revelation, we knew we couldn't stay, either. Her family would be there soon. We'd done what we came to do, and we needed to move on. None of us said a word as we drove back to my mother-in-law's house. None of us looked at each other or high-fived. The mission of our task had suddenly changed. It wasn't about us anymore, and I knew my Thanksgiving meal would never be as tasty as that old lady's, and I didn't care. My son quietly wept, and my husband and I stared out opposite windows in the back seat at the dead grass and the surrounding, expansive great north woods that would soon be covered with ice and snow and more ice.
I think of that old woman every year, now, at Thanksgiving, knowing she's not around. But it's because of her that I try to overcome myself and reach out to others this time of year, especially in the form of food. Maybe it's their last Thanksgiving, even if they don't know it. Or maybe they just need a little help.
I hope you will consider helping others enjoy a good feast this Thanksgiving. The easiest way is to buy an extra bag of food when you go to the grocery store. It's easy: buy two of everything that's on your list if it's nonperishable, and sort it into two different bags at checkout. Community Food Share will take your bag at the door after you've paid for it. It's a no-brainer. The annual Let's Bag Hunger food drive ends this Wednesday, so there's still time.
Community Food Share's cache is what gets distributed to the homeless shelters, soup lines at churches, women's shelters, justice centers (especially for cases in which a person has been evicted from their home), and police stations (even police carry boxes of food in their patrol cars).
Here is a list of groceries around Boulder where you can donate food (basically, any place except Whole Foods):
Alfalfa's
King Soopers
Safeway
Sprouts
Sunflower
Lucky's
I'm heading to the store right now!