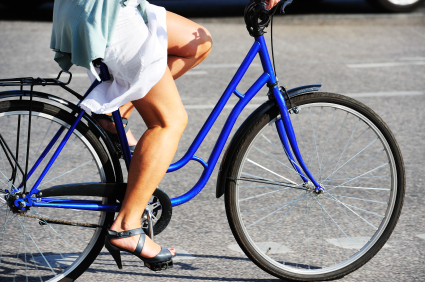 Last summer, I got a new bike, much easier to ride and much zippier than the hand-me-down I'd been using. A little high on my new confidence, I was for about twenty-four hours a somewhat aggressive, even reckless biker. I don't remember my sins very clearly, but I probably sailed through red lights, rode on and off the sidewalk, and cruised down one-way streets the wrong way.
It didn't last, because I discovered that I didn't like the experience of seeing my life flash before my eyes. I reformed abruptly and rigorously. My principle became, roughly speaking, bike in such a way that even relatively inattentive drivers can be expected to see you and know what you're going to do next. Also: don't be annoying to pedestrians. I began halting at red lights and stop signs. Later I relaxed this somewhat, almost to Idaho rules. I made sure to bike in the bike lane, if there was one or on the outer edge of it, if biking inside it was going to put me within swinging distance of the opening doors of parked cars. I stayed off sidewalks. And I never, ever biked the wrong way down a one-way street.
Gradually I became hoity-toity about my righteous biking. I glared at cyclists who came at me the wrong way down a one-way street and began to refer to such transgressors by a moniker that blogger Bike Snob NYC invented for them: "bike salmon."
Read the entire post at Steamboats are Ruining Everything: Bike salmon: omen or harbinger?.