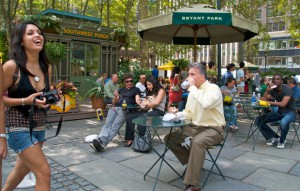 The biggest mistake in creating public spaces is to make them too large, Gehl says. His motto: "When in doubt, leave some yards out." …. That rule has often been disregarded by modernist designers, who tend to make buildings and public spaces that are too large for the sensory apparatus of human beings. Gehl has meticulously studied the senses. Cities for People presents illustrations showing that although we can see a person more than 300 feet away, "the experience only becomes interesting and exciting at a distance of less than 10 meters/33 feet, and preferably at even closer ranges where can use all our senses." It is only when people or buildings or other objects are within 7.5 yards that "all of the senses can be used, all details experienced and the most intense feelings exchanged," Gehl explains. Thus, buildings that are tall add little to urban livability. Human beings are not naturally inclined to look up, he observes, and even when they do, they can't get much enjoyment out of what they see above about 44 feet.
Read the entire article at New Urban Network:  Cities for People.
Also
We know more about the habitat of panda bears and mountain gorillas than we do about cities at eye-level. It's intriguing why so little research has been done on the urban habitat of homo sapiens in urban settings. Since Jane Jacobs, maybe 10 people have studied it seriously: Holly Whyte; Christopher Alexander; Allan Jacobs and Donald Appleyard among them. Ten years ago, we started our consultancy firm to put all of their theories to work. And we've learned a lot about what works and doesn't work. It's partly a cultural question and partly it's a matter of biology and what kind of animal we are–how far we can move, and see. Why is it that shops are four or five meters apart on all the good shopping streets all over the world? Because if you're walking past, there is a new experience every four or five seconds, which is ideal from a stimulus point of view.
Read the entire article at Fast Company: Cities for People: A Q&A With Architect Jan Gehl