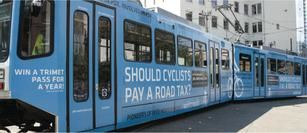 There are many reasons for cities to encourage bicycling, and the economic argument is one of the best. Every time somebody gets on a bicycle instead of in a car, the city saves money. The cost of road maintenance is averaged at 5.6 cents per mile per motor vehicle. Add the so-called external costs of parking (10 cents), crashes (8 cents), congestion (4 cents), and land costs and that's another 28 cents per mile! Meanwhile, for slower, lighter, smaller bicycles, the externalities add up to one meager cent per mile.
The average driver travels 10,000 miles in town each year and contributes $324 in taxes and direct fees. The cost to the public, including direct costs and externalities, is a whopping $3,360.
Read the entire article at Grist: Why an additional road tax for bicyclists would be unfair.