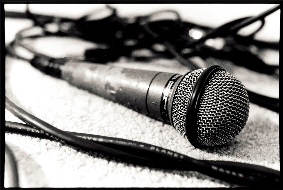 Over the last month, the German classes at Shining Mountain Waldorf School have produced a 60-minute radio show for a new online radio station, Deutschradio24sieben. This radio station is aimed at learners of German. In the days of advent, schools and organizations from all over the world are contributing programs in German on the theme of Advent and Christmas.  Shining Mountain Waldorf School is the only school from the US participating. Our show will air on 14 December, 2010 and will run on the hour every hour.
The level 4 German high school class is presenting their version of "A Christmas Carol." The level 3 German class will star in a radio soap, tell jokes and riddles,  and interview exchange students. The 9th grade German students have written a sketch, "An interview with Santa." The 7th and 8th graders will recite  German poems. And the 3rd, 5th, 6th and 8th grade classes are all singing various German Christmas songs.
So please check out www.deutschradio24sieben.com for broadcasts in German and make sure you are listening on 14 December, 2010 when Shining Mountain Waldorf School will be on air.