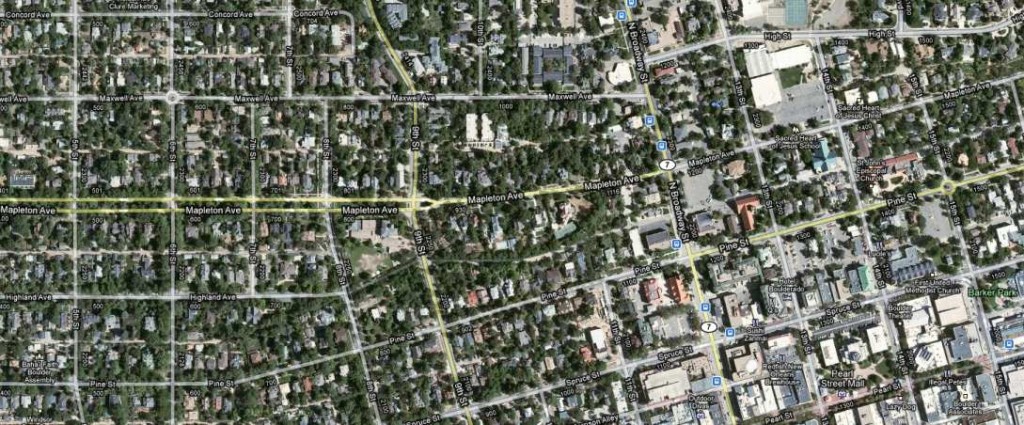 Have you ever wondered why the Whittier neighborhood has more mixed housing types than the Mapleton neighborhood north of Mapleton (along Maxwell, Concord and Dewey)?  Both areas were originally built with mostly smaller houses that served shop owners and workers rather than wealthier citizens. Today the two areas are rather different.
Up until about World War II, both neighborhoods remained quite stable.  Changes to the housing stock were more common for larger houses throughout the neighborhoods as families, especially during the Great Depression, claimed "hardship" in maintaining large homes.  There was a city board that then would grant permission to split the big house down into smaller units. The Kohler House, formerly owned by the family of Edward Kohler, a prominent banker and rancher at 942 Pine, once had 14 rooming units!
Following "the War," an influx of GIs attending the university on the "GI Bill" placed further demands on Boulder's housing stock resulting in more house conversions to apartments in both neighborhoods.  The need for housing was so dire that Minnie May Cunningham, the "Goat Lady" near 4th and Linden, was able to convert her low ceilinged chicken coops to rental housing. In those days, there were no rental licenses!  As the University began accommodating more married students in family housing, originally in Quonset huts and then in the apartments located south of Canyon and west of Folsom, there was less demand on the neighborhoods for student housing. The City instituted zoning regulations with more control, in particular segregating apartment housing from single-family housing.  Single-family housing was further defined by size of lots and the general mix of housing types.  The area north of Mapleton included a number of houses that were originally built as duplexes.  This, coupled with small lot sizes, resulted in a MR-E zoning (medium density, established) designation for the area–the same as much of Whittier.
By the mid-1960's, Boulder had begun to expand to the east.  Apartment complexes in areas zoned for high density began to spring up, relieving some of the demand on the big old houses for higher density housing.  Housing was reasonably priced so a family could buy a "run down" apartment house and convert it back to single-family use.  Because the housing stock was not expensive, developers could also buy little old houses for demolition to be replaced by small multi-unit buildings given a large enough lot or two in the MR-E zones.  The Whittier neighborhood and the east end of Maxwell both had quite a bit of this kind of in-fill development through the mid-1970's.  For a brief time, I lived in one of those brand new four-plexes in the 1700 block of Spruce.  Crystal Gray was my next-door neighbor.  Her family occupied the upstairs apartment, one of three, in the same house where Crystal still lives. At about the same time that I bought my little house west of 9th on Maxwell, Crystal and her family bought their house from their former landlord and converted it back to single family.
It wasn't very long before development activity began to creep across 9th Street into the north part of Mapleton Hill.  The families living in Mapleton Hill organized an effort to both change the MR-E zoning to LR-E and have Mapleton Hill named an historic district–one of the first in the City of Boulder.  Neighbors were notified of the doings about town via "The Mapleton Leaf," a 1 page newsletter that was distributed by the Eco-Cycle block leaders.  (Later, the sixth grade children at Mapleton School took on the responsibility of passing out the newsletter.)  We gathered around the table at Judge "Bud" and June Holmes' home enjoying June's home baked cookies with "Bud's" Mayna bird caged in the kitchen screeching something that sounded like "Get me outta here!"  We worked together to change our neighborhood and were known as the Mapleton Hill Mob down at City Hall.  I was in Council chambers the night Bill Winter stood and said, "Mapleton Hill is an anachronism and, as such, ought to be preserved!" Council agreed and made the changes that the neighborhood had requested. No more of our small housing stock was demolished except for one "new" condo complex at the northwest corner of 9th and Maxwell.  (The permits for that project were issued just prior to the changes that the neighborhood requested of Council went into effect.)
While the Mapleton neighbors were busy preserving our historic housing stock, Whittier neighbors were busy revitalizing their school through the creation of an International Baccalaureate program.  How would each neighborhood be different today had the residents made different choices thirty and forty years ago?  How will these two exceptional neighborhoods change in the next fifty years?