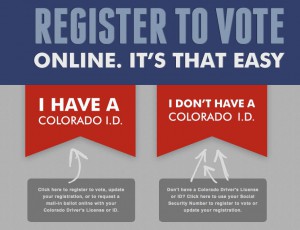 The Midterm Elections are around the corner and the voter registration deadline is approaching. Have you moved recently and need to update your address? Want to request a mail-in ballot? Or are you a late bloomer and still need to register to vote for the first time? Just a word of warning: your first time can make you nervous, but don't be surprised when it all happens quicker than you expected. Registering takes just a minute and you can now do it all online if you live in Colorado.
New Era Colorado just launched our Online Voter Registration website where you can take care of everything in one spot. If you've got a Colorado Driver's License or ID you can even use the site just to check your registration to make sure it's all accurate and good to go.
Do it now. I bet you can even manage to do a yoga pose while you're at it.
And if you think you don't know enough about the issues on the ballot, join us at the Boulder Drafthouse at Spruce and 13th on Wednesday, Sept. 15th at 5:30 to learn about the ballot measures this year. Some of them are kinda scary. More info at the Facebook event here.