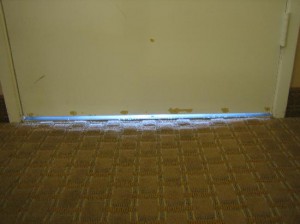 On Tuesday night, September 7, 2010, the City became the first in the nation to pass a mandatory residential energy conservation ordinance (RECO) targeted at rental housing.  The regulation, called SmartRegs, received strong support from environmentalists and environmental groups like PLAN-Boulder County, from renters and students represented by New Era Colorado, and from a significant group of landlords, including Sheila Horton and the Boulder Area Rental Housing Association.
The SmartRegs ordinance will require energy efficiency and renewable energy upgrades by 2019.  Scott Woolsey spoke for the City's Environmental Advisory Board endorsing the measures.  Speaking for PLAN-Boulder County, Leonard May stated support for the staff proposed ordinances but urged Council to consider the urgency of impending climate change and key the timeline for compliance to one,  four-year rental licensing cycle instead of an eight year cycle.  While some public speakers and Councilmember Ken Wilson echoed the need for quick action, all agreed that City Staff had done an outstanding job of working with all stakeholders to produce a reasonable and balanced approach will move Boulder toward the State of Colorado GHG reduction goal.  Many, including Suzy Ageton, George Karakehian, and Lisa Morzel, spoke with satisfaction of the process that produced regulations supported by landlords and renters alike.  One citizen speaker in the public hearing, a landlord, said that this is the best City Council he has ever worked with.
Matt Appelbaum and Lisa Morzel expressed some concern with a proposal to allow carbon credits to be purchased as part of the SmartRegs formula.  Both felt that carbon credits should be removed and Morzel noted that one citizen suggested buying EcoPasses for RTD bus service or providing points for residential units with clotheslines insteard of gas or electric clothes dryers might be a better approach.  Several Councilmembers emphasized that bringing rental properties that illegally do not have rental licenses into compliance is a priority of this program.   All three SmartRegs ordinances passed unanimously on a motion by Macon Cowles, seconded by Crystal Gray.
City Council's third reading of the SmartRegs ordinances to approve final revisions will be on September 21.