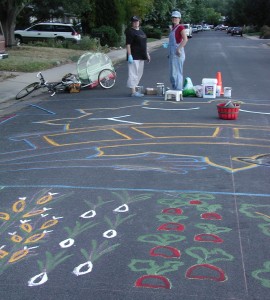 In September of 2008, Cara Priem was inspired to create a pavement mural in her Martin Acres Neighborhood after watching a video on Portland, Oregon's City Repair Project. Trouble was, the city had no process for such projects. Undaunted, Cara set out to work with the city to create one. After approaching the Transportation Advisory Board, the Arts Commission and City Council, she received a first draft of the new process in June of 2009.
With a new city process in place, on September 27, 2009, armed with 10 gallons of donated street striping paint and an official block party permit, she and her neighbors came together to paint the mural. "I was thrilled and ecstatic,"said Priem, "it was definitely one of the most amazing things I've ever been involved with!"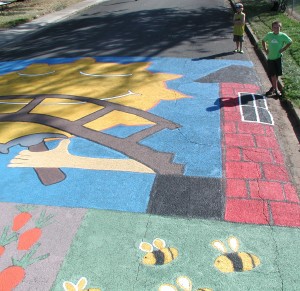 If your neighborhood is interested in building community through Paint the
Pavement projects like this one, visit the city's website at City of Boulder Paint the Pavement Process.