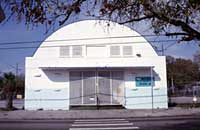 "During the war, the U.S. Navy erected more than 160,000 Quonset huts on four continents and throughout the Pacific. 'A team of eight Seabees could assemble a barracks in eight hours by just driving nails through the ribs,' says Commander James Monroe, the Seabee veteran who heads the museum.
"Designed for the Navy by architects and engineers of the George Fuller Construction Company, the units measured 20-by-48 feet or 40-by-100, and came with blueprints for over 40 different uses. Wryly described as 'tin cans' by GIs, these lightweight, portable buildings were later sold to the civilian world. Surplus huts eased the post-war housing shortage in American cities and university campuses, where veterans studied under the GI Bill. Before long, the term 'quonset babies' entered the popular lexicon.
"Today, many communities question what to do with their surviving Quonset huts. (No one knows how many exist today.) Some say the structures should be preserved; others describe them as 'eyesores' that should be torn down."
Read all about it at the National Trust: Tin-Can Treasures.