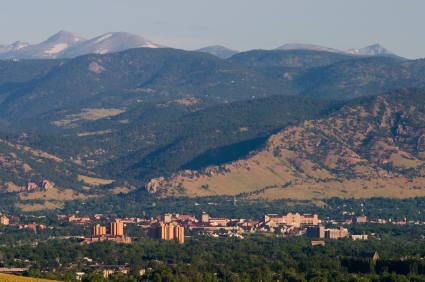 Ken L. Breeder, Chief Curator of Doggonit Daily Media interviews "Bigger Boulder" Spokesperson  Ludovica S. Deludovich in the first of a series of interviews on "Values and Visioning for Boulder Valley"

KLB:  What brought you to Boulder?
LSD:  A bus. An airplane first. Then a bus.
KLB:  Not a bicycle?
LSD:  That came later.
KLB:  What made you decide to stay in Boulder?
LSD:  The first time I saw the City of Boulder as I rode the bus over Davidson Mesa I knew instantly that Boulder had a problem.  And I knew, immediately and intuitively, that I had the answers needed to solve that problem.
KLB:  And what was that problem?
LSD:  It was obvious to me that Boulder was simply not big enough.
KLB:  Boulder was simply not big enough? Why was that a problem?
LSD:  There were a number of tell-tale signs that Boulder simply did not look or feel like a perfect American city should.
KLB:  How "should" a perfect American city look and feel?
LSD:  First of all, it should vibrate. It should be loud. It should be crowded. No one should be allowed to drive a car. Everyone, without exception, should be required to walk or ride a bicycle wherever they go.  No exceptions. And, of course, there were way too many completely useless backyards, parks and tree-lined rights-of-way in Boulder. An authentic American city would have nothing but attached row houses with stoops opening directly onto the sidewalk.
KLB:  Somehow this makes me think of that Star Trek episode in which a beautiful woman tricked Captain Kirk into beaming down to her planet. It was so drastically over-populated, so over-crowded that everyone wished they could die but they couldn't. They were all immortal and they needed to steal, by stealth, Captain Kirk's programmed-for-mortality genetic material.  Do you really mean to say that overpopulation is a solution rather than a problem?
LSD:  Quite frankly, yes.  That was another thing I noticed, speaking of Star Trek.  I quickly discovered that people in Boulder had a weird, almost pathological addiction to "space."  You know, Open Space, personal space, breathing space, creative space, inner space, outer space . . .
KLB:  So what was your plan for reforming or re-educating the "unenlightened" citizenry of Boulder?
LSD:  First I targeted the enviro community.  In retrospect that was a big mistake.  I wasted a lot of years that way.
KLB:  Why was that such a big mistake?
LSD:  They turned out to be unpersuadable. To this day the vast majority of them still believe that "less is more" in terms of population and population density. They can't abide "coziness." And they still insist, quite selfishly in my opinion, on preserving their views of the Flatirons. They still refuse to ride their bikes to go grocery shopping or to pick up their sick kids from day care via bicycle on days when there's three feet of snow on the ground, the temperature is below zero and the streets and sidewalks are so icy that you can't stand up without Yaktraks. Wimps? Hypocrites? I leave it to you to decide.
KLB:  So what did you do when you had this epiphany about Boulder's enviros?
LSD:  The choice was pretty clear at that point. My path ahead clearly lay with the real estate developer community.
KLB:  How so?
LSD:  For one thing, this was a welcoming community in so many ways. Not like the enviros. Not only were the real estate developers already ideologically in line with my values and vision regarding the need for much more population growth and density in Boulder Valley, but that's where the real action is, if you know what I mean. (winks)
KLB:  I can guess, but I think we'll have to save that discussion for a later interview.
LSD:  Open Space. The final frontier. To boldy go . . .
KLB:  (interrupting) Yes, I get the picture, now. Fascinating. Well, this brings us to the end of our interview with Ludovica S. Deludovich. Thank you, Ludovica, for taking the time to enlighten our readers as to what "Bigger Boulder" is all about and to how you are helping them to achieve their—and your—goals for turning  Boulder into a "perfect" American city.
LSD:  My pleasure.
---
This post originally appeared in the 2015 April Fool's issue of the Blue Line.