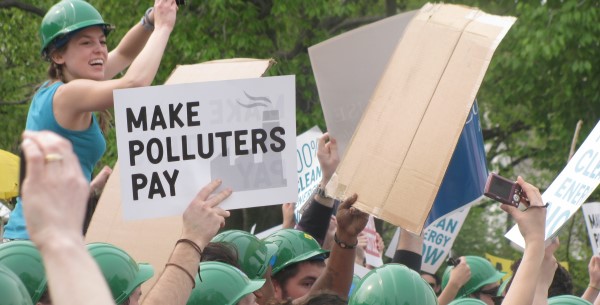 Attending Power Shift 2011 in Washington D.C. was an empowering and unforgettable experience for me and the 32 students and campus affiliates from CU Boulder.  Power Shift is a clean energy and climate justice convergence that attracts over 12,000 like-minded young people, united in creating a more sustainable future through our actions today.   Together, students from the University of Colorado in Boulder independently organized to raise money to fund the entire trip.  Christina Gosnell, our Power Shift coordinator, believes that we couldn't have had such success in sending 32 students without the power of the combined efforts of our entire group.  We were all motivated from day one to get to Power Shift and we succeeded.  Now that we are back, we are armed with the tools for creating change.
Sarah Inskeep Muller, a CU student who attended Power Shift believes that student and community involvement is a crucial element for a sustainable future. "We are at a point that being informed is not enough. We must be involved, and due to Power Shift, I have the building blocks to bringing change in my community and country," said Muller.
Throughout the course of the weekend, we attended panels on many critical issues regarding environmental degradation, carbon-based energy systems, poverty, and human rights abuses.  Many of the panels highlighted solutions or new technologies being developed to alleviate the burdens of these issues.  CU student Zach Dunlop said that he felt the panels were very beneficial and reminded him of the Conference on World Affairs that takes place annually on the CU Boulder campus.  Student Sarah Inskeep Muller also attended several different panels and workshops during the weekend.  According to Muller, the most notable panel topic was on fracking: "It gave me many ideas, as well as people resources in order to start my own campaign back in my home town of Grand Junction, Colorado."  Many students like Muller are coming up with bold plans for changing their local communities now that they are back in their hometowns.  Power Shift was successful in igniting a spark in so many students to begin taking action and organizing others to be active participants in their community.
Each night, we heard from multiple powerful keynote speakers.  Van Jones, Al Gore, Lisa Jackson, and Bill McKibben were just a few of the people addressing our generation as young powerful individuals.  Hearing their story of HOW they have gotten WHERE they are today was truly inspiring.  Overall, their message emphasizes that we, as students, are powerful and it is us who will determine the future of our environment.  As young people, we have a comparative advantage.  We have time.  With time, knowledge, and motivation we will foster change!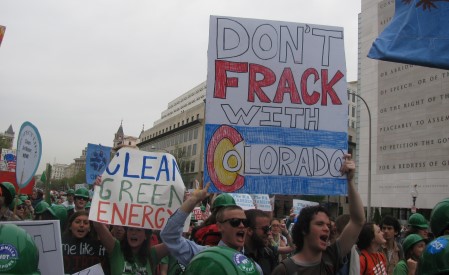 On the final day of Power Shift we participated in a rally/march from the White House to the Chamber of Commerce.  Our voices rose in protest over the large oil companies recently responsible for the gulf oil spill.  The passionate voices of thousands crying, "Ain't no power like the power of the people because the power of the people won't stop" was remarkable.  We felt like we were getting our voices heard and stating our role as the united youth of America.
As a clean energy conference, Power Shift brought an array of students concerned about numerous issues who are already reaching out to create change in their local communities.  Helen Katich, a sophomore and engaged community activist with CoPIRG was especially focused on human rights issues at Power Shift.  She believes that Power Shift has given her a whole new perspective on the interconnectedness of all the issues facing society. "We all have different passions, different ideas, but the one thing we all share is what we are all standing on, our planet Earth."  In that aspect, Power Shift really made us realize that the repercussions of our actions affect everyone and are not just limited to our community, state, or nation, but the world as a whole.
The students who attended power shift from CU Boulder are truly dedicated to challenging the status quo.  "With the campaign organizing toolsneeded for successful change, we are united to catalyze a clean energy economy and sustainable future.  We are bringing that movement home to Boulder and the West to create a lasting coalition of well-informed students who are dedicated to take action on climate change and environmental injustice," said Gosnell.  "We plan to keep the momentum that was gained at Power Shift and use the tools that we learned to make the change that students want to see on our campus, the community, and all of Colorado."
Among the many grants and donations received, the Student Environmental Action Coalition at CU Boulder contributed a significant amount of funding for our initiative.  Other generous contributions were made by the Arts and Sciences Student Government, the University of Colorado's Environmental Center, the Office of the Vice Chancellor, the Indigenous Student Network, the Multicultural Affairs Board, the Renewable and Sustainable Energy Institute, Clean Energy Action, Communication and Social Engagement for Sustainability, 180-11, and friends and family members of students.  Without this support from both the public and private sectors, student groups, local organizations and the community, we couldn't have attended the conference.  Our gratitude for these generous donations cannot begin to be expressed in words.  Our actions will reveal our capability to engage students to act now on environmental issues.  Now that we are back in Boulder, we are dedicated to creating this change on a local and national level.