Why do I love Boulder?  Because it's a great place to raise kids.  So great, in fact, that I left a successful career, newly-built home and good friends to move back to this city, about eight years ago.  Any regrets?  No way.  I've made new friends, grown my business and continue to be an enthusiastic ambassador of Boulder's family-friendly, active lifestyle.  What about you?  What's your story?
Don't be shy – spread the love!  The City of Boulder's I Love Boulder campaign is adding a video element to spread the word about our city's  "cultural, traditional and happily unconventional characteristics."  Businesses, residents and visitors can participate, either by posting their own short videos, or by going on-camera with the I Love Boulder roving reporter  — me.
After being an actual TV reporter/anchor for 12 years (KCNC Ch. 4 Denver, among others), I'm used to interviewing people.  But the enthusiasm with which folks are responding to this campaign blows me away!  It's refreshing to hear the many, diverse reasons why people love Boulder – from the food, to the active lifestyle, to the alternative therapies – you name it, somebody loves it and is willing to share.
The I Love Boulder campaign is designed to be grassroots – a real community project.  You can "like" the I Love Boulder Community Project page on Facebook, read tweets from the campaign, wear an I Love Boulder t-shirt (from Campus Street Sportswear on Pearl Street) and  — most importantly —  voice your own thoughts and opinions.  Just shoot a :30 to 1:00 video, post it on your own YouTube channel and "tag" it appropriately (learn more about tagging and sharing at www.loveboulder.org).  It's as easy as that.
Now, because I'm a busy local resident – working, being a mom and doing plenty of volunteer activities – I can't be everywhere.  That's why I'm depending on you to share your love.  If you see me at the Farmers Market, hiking at Chautauqua, shopping on Pearl Street – usually with my trusty video camera in hand – say hello, and tell me why you love Boulder.  If you don't, tell me anyway – by making your own I Love Boulder video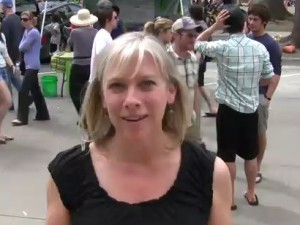 .
The world is watching!