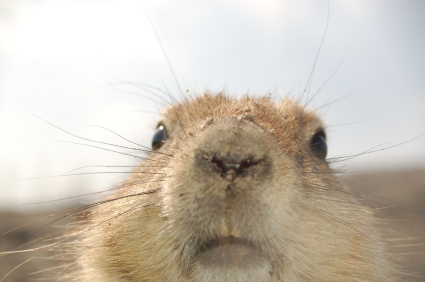 University of Colorado researchers have released a groundbreaking study demonstrating that prairie dogs, once believed to be highly intelligent creatures, are not so smart after all.
Animal behavior expert Janet Brady said, "We expected that these animated, social, speedy little guys would be really clever, but it turns out that they're just very confused."
Dr. Brady's team at the University of Colorado subjected the creatures to a battery of standard intelligence tests.   "We gave them simple logic tests, such as,  'Which word does not belong: hawk, owl, coyote, eagle?' Instead of answering, each prairie dog froze, then dashed into its burrow!"  The animals also disappointed the researchers in the verbal tests, an area in which they were expected to excel.  For example, Dr. Brady observed only barking and evasive behavior when the prairie dogs were asked to rearrange the letters 'ENSKA' into a word.  "Obviously, these creatures do not have the focus and maturity that are fundamental to any concept of intelligence," concluded Dr. Brady.  "I think we should just shoot them."
---
Editor's note: This post originally appeared in the April Fools Edition of the Blue Line (4/1/2011).
---