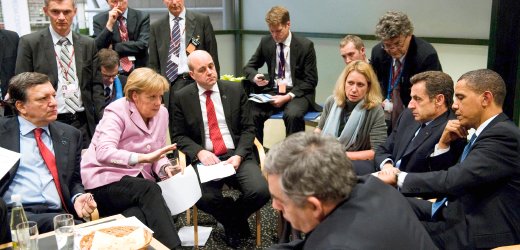 Last year's climate summit in Copenhagen was a political disaster. Leaked US diplomatic cables now show why the summit failed so spectacularly. The dispatches reveal that the US and China, the world's top two polluters, joined forces to stymie every attempt by European nations to reach agreement.
In May 2009 the Chinese leaders received a very welcome guest. John Kerry, the powerful chairman of the Senate Foreign Affairs Committee, met with Deputy Prime Minister Li Keqiang in Beijing. Kerry told his hosts that Washington could understand "China's resistance to accepting mandatory targets at the United Nations Climate Conference, which will take place in Copenhagen."
According to a cable from the US embassy in the Chinese capital, Kerry outlined "a new basis for 'major cooperation' between the United States and China on climate change."
At that time, many Europeans were hoping the delegates at the Copenhagen summit would agree climate-change measures that could save the planet from the cumulative effects of global warming. But that dream died pitifully in mid-December 2009, and the world leaders went their separate ways again without any concrete achievements. Confidential US diplomatic cables published by WikiLeaks now show just how closely the world's biggest polluters — the United States and China — colluded in the months leading up to the conference. And they give weight to those who have long suspected that the two countries secretly formed an alliance.
The cooperation began under the last US president, George W. Bush. In 2007 Bush's senior climate negotiator, Harlan Watson, organized a 10-year framework agreement with China on cooperation on energy and the environment. The two countries also agreed to hold a "Strategic and Economic Dialogue" — backroom talks that neither the Americans nor the Chinese were willing to admit to at first.
Read the entire article at Spiegel Online: Copenhagen Climate Cables: The US and China Joined Forces Against Europe