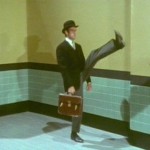 No trash may be put out before Sunday evening. Any trash not in a secured trash container or trash dispersed by animals may be picked up by MPOA employees and owner may be billed for cost. Bear proof trash cans have been provided at Hopkins Park and the MPOA pool located on Peak Drive for overflow or early check-out trash.
From: David Thorne
Date: Thursday 7 October 2010 11.04am
To: mpoa@massanuttenvillage.com
Subject: Bears

Dear Sir and/or Madam,I have received a request for seventy-five of my dollars for putting my trash out for collection without securing it inside a bear-proof container. Due to a series of events the night before, I forgot to put my trash out and had to run it out the next morning after hearing the collection truck approach.

As regulations govern only actions within certain defined limits and thereby justify all similar actions that lie outside those limits, I request that my offence is changed from 'unsecured trash' to 'secured trash barring the possibility of bears formulating a strategy in which to take advantage of the few minutes between deposit and collection.'
Regards, David.
Read the entire record of correspondence at 27b/6: Unsecured Trash