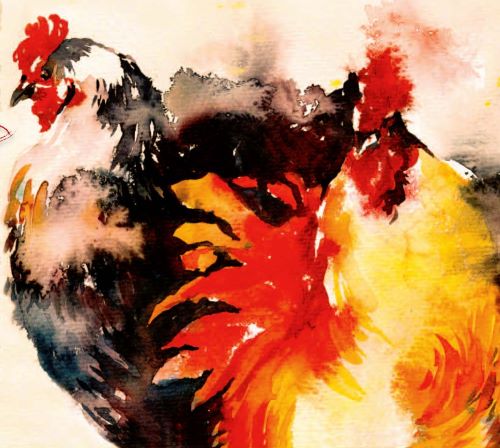 It's time to get ready for Boulder's first annual Tour de Coops.
With thanks to Betsy Burton for her inspiration, Boulder will have its first annual biking tour of backyard chicken coops, edible gardens and bee hives.  Betsy, who runs the Lyons Farmette, launched the first Lyons Tour de Coops last September, featuring 14 backyard coops around town.
Backyard gardens and 'edible estates' are popping up in neighborhoods around the country, and why not?  With an increasingly unstable economy, an undependable and unsustainable agricultural system, and the discovery of the pure joy that comes in growing your own food, more and more folks are taking on the challenge of producing some of their own food.  Most people think of producing their own food as growing fruits and vegetables in their backyards, patios and community gardens.  But, if you are a vegetarian, or just really enjoy eggs, the next step in backyard self-sufficiency is raising chickens.
I brought home my first chicks this March and began my journey as a chicken keeper.  I soon found a small community of other folks around town that also had chickens.  But, I also found an even larger number of folks that were interested in raising chickens but weren't sure where to start.  The Tour de Coops in Boulder and Lyons are great opportunities for people to learn more about raising chickens by visiting a number of coops and talking with people who are keeping them in Boulder county and within city limits.
The Tour de Coops Boulder is an open tour that is free to the public, occurring in Boulder County September 4th, 2010, from 2-5 PM.  An open tour is one in which there is no specific start or end location.  You can find a list of properties on the Tour on the YummyYards website or the Transition Colorado website.  The address of each property on the tour is listed, as well as what each property has (chickens, edible gardens, bee hives, miniature dairy goats and/or an aquaponics system).  Pick the properties to visit that have the features you are most interested in seeing, or pack in the afternoon and visit them all!  The Tour is free and open to anyone and everyone, and families are encouraged to bring their children.
There are a total of 17 properties on the tour, ranging from small urban plots with a few laying hens to a farm with 58 chickens just east of town. Participants can access a map from the Transition Colorado and YummyYards websites, or pick up a flier from a number of locations around town. From 2:00 – 5:00 p.m. tour goers can choose to visit all properties or just the ones that interest them most.
For more information, please contact the following organizations: