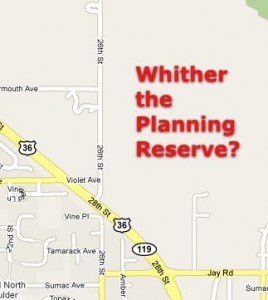 The Boulder City Council, during a special meeting on May 25, instructed the City's planning staff to study two proposals for development in the North Boulder Planning Reserve.
The reserve is a large generally undeveloped tract east of US-36 and north of Jay Road. In the Boulder Valley Comprehensive Plan, development is not allowed in the Planning Reserve for 15 years unless it offers a special "community benefit" and cannot be located elsewhere in the city.
The potential extension into the Planning Reserve came about during discussion of the 2010 major update to the Boulder Valley Comprehensive Plan, a process than occurs every five years. The Comprehensive Plan is a joint project of the City of Boulder and Boulder County, and changes are subject to approvals by the City Council, County Commissioners and the planning boards of each jurisdiction, a process known as "four-body review."
Read more in the Boulder Reporter: Council mulls development in North Boulder Planning Reserve.