Note: This article is part of a series of 2018 ballot issue analyses written for the Blue Line by author Richard Valenty. You can find coverage of the other 2018 ballot issues here. Ed.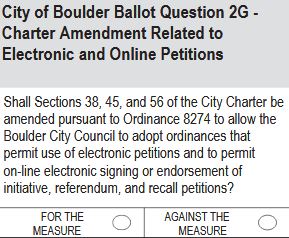 Question 2G would amend three sections of the City Charter (38, 45, and 56) to permit use of electronic petitions and to permit on-line electronic signing or endorsement of initiative, referendum, and recall petitions. Don't freak out quite yet, though. This measure by itself does not authorize the use of electronics—it merely would allow them "as permitted by Boulder Revised Code."  This means the city would need to adopt an ordinance to authorize use of electronic systems for petitioning, with public process so citizens could weigh in on the perceived pros and cons.
Electronic petition signature gathering has already been used, so Boulder would not be the electronic guinea pig on this front. For example, Denver Elections launched an electronic petitioning app called eSign in 2015, in which a person would be able to sign a petition on a tablet device, using a stylus.
From a key paragraph from the 2015 Denver Elections release on eSign: "Petition circulators will be able to confirm that a signer is a registered voter because the app interfaces with a voter database and they will also be able to tell at a glance how many signatures they've gathered since the app keeps a running tally."
Those of us who have worked on a petition drive know this is cool, since you literally can't tell if a person really is a registered voter just because they signed a piece of paper. Campaigns strive for high signature validity rates because election officials may decide that a petition is sufficient based on sampling. Also, large-scale petitioning can be expensive, so a running tally can let campaigns know faster if or when they have enough signatures to feel confident about turning them in for examination.
Online petitioning presents different considerations, including digital security and the potential lack of personal interaction that could guide whether a person signs or not. However, under 2G, the City Council could approve signing signatures on a tablet through an ordinance, while not initially approving online petitioning—or vice versa, or approve both, or approve none of the above.
This doesn't mean online petitioning might not be a good thing to keep under consideration, in case Council doesn't approve it right off the bat. Petitioning in person is time-consuming and potentially expensive for campaigns, and often annoying for people who just want to enjoy their afternoon on the mall or at the farmer's market without getting hit up for a signature. To be clear, a "traditional" paper petition campaign virtually always has some number of invalid signatures, fraud is not unheard of, and petition gatherers aren't always well informed. The future might find Boulder using online petitioning, or it may not, but 2G would give the city the opportunity to have that discussion.
Question 2G Pros and Cons
Pro
The world is getting more and more electronic, and the Boulder election system should move into this electronic future.
Signing signatures on electronic devices is nothing new—we've been doing it with credit card transactions for years.
Electronic systems can verify that a petition signer is a registered voter, a potentially beneficial tool for campaigns running the petition drive.
Passing Question 2G would not officially authorize online petitioning—it just allows for future discussion through the public process.
 Con
Electronic and digital systems are not necessarily perfect, and history includes examples of equipment failure, security concerns, and malfeasance.