Reprinted with permission. Originally posted at the author's blog.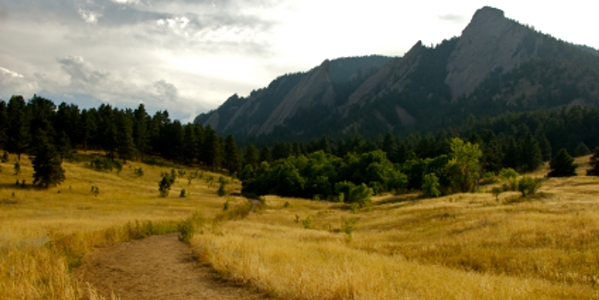 "If you don't know your past, you don't know your future"

— Ziggy Marley
After about a decade of working on political issues and campaigns at the state and federal levels, I took a job this year writing Boulder City Council candidate profiles for the Boulder Blue Line. I covered Council for the Colorado Daily from 2003-08, and my 2017 experience dug up long-repressed memories of people and issues – but it also exposed me to some new issues and ways of thinking. Learning is good!
To get this out of the way, I am not using this piece to endorse candidates. I had a wonderful opportunity to sit down with every one of the 14 candidates, in most cases for about an hour, and there is nothing like getting to know a person in a casual setting where you sit face to face and talk about their lives, not just positions on a few hot-button topics. I am probably too much like Will Rogers ("I never met a man I didn't like") for my own good, but I know from deep experience that politicians are people and I prefer to judge them on their merits, since we need talented officials to make wise decisions on broad arrays of issues over extended periods of time.
But this does not mean that I don't have political opinions. I have told people that I felt a bit like Rip Van Winkle when I stopped working in Denver in 2016 and started spending most of my time in Boulder again. Van Winkle, in short, fell asleep for a long period of time, then woke up in a changed village and didn't recognize the townspeople. I will assure everyone that I did not fall asleep while working in Denver – in fact, I probably suffered from lack of sleep – but I do believe I came back to a changed village.
The Boulder we have today is the way it is, physically, thanks to the vision of some of our past leaders. Unfortunately, I sense a growing willingness to write off some of the local people and organizations associated with the efforts that helped get current residents such a wonderful place to live. I am a student of history, yet while I don't believe people need to know all of their past, it hasn't been bad for Americans to get a fresh reminder of who Alexander Hamilton was thanks to the work of Lin-Manuel Miranda – and I wonder if recent arrivals (regardless of age) to Boulder know that much about the people responsible for their environment. So, join me in a quick review!
THE PLAYERS:
Al Bartlett and Bob McKelvey – Boulder Blue Line: No, not the website. The actual Blue Line – in essence not allowing city water service above roughly 5,700 feet elevation – was adopted in 1959 and was in response to the threat of construction in and on Boulder's foothills, which today forms our visual backdrop. The two CU professors and others founded what is now PLAN-Boulder County and ran a successful ballot measure establishing the Blue Line (click here for lots more), and since then, Boulder has enjoyed its beautiful backdrop, which is unfortunately easy to take for granted.
Oakleigh Thorne, Ted Tedesco, Ruth Wright, many others, Open Space: In 2017, folks living in Boulder City/County and visitors just walk out on countless acres of Open Space, but it took a 1967 election with new taxation to get the whole thing really rolling. Tedesco was City Manager at the time, and convinced a "reluctant" Council to put the Greenbelt-Open Space measure on the ballot. There is no doubt that lots of the Open Space we have today would have been developed without public ownership of the land – and it's prevented sprawl, it's where we get our exercise and sunshine, it's protected plant and animal species living near the city, and it's kept parts of our city and nearby areas as beautiful as folks with idealized notions of Colorado envision. It's Open Space's 50th anniversary this year, so next time you're on Enchanted Mesa, try to remember that you could have been looking at a hotel up there instead of glorious nature.
Ruth Wright, building height limits: Most Boulderites are quite familiar with our current height limits, but less so with what could have happened without them. In the late 1960s, it was truly possible that Boulder could have had 100-140 foot skyscrapers in its downtown, blocking foothills views. Ruth Wright spearheaded the successful 1971 ballot measure creating our current height limits, and authored an interesting paper explaining the issue and her rationale. Today, some recent developments are impacting views in isolated areas, but you fortunately still don't have to walk that far to see something beautiful to the west.
Paul Danish, The Danish Plan: According to Paul Danish himself from a story in the Boulder Weekly, "during the first six years of the 1970s, (1970 through 1975) Boulder's average annual growth rate was 3 percent plus." You don't need to be Al Bartlett to understand that extended growth by a given percentage compounds to create larger growth than the original measurement every year. And, here's a quick snapshot of Boulder's population growth by decade, to help illustrate where the concern was coming from:
Census Year    Population    Percentage Growth
1950                      19,999               54.3%
1960                      37,718               88.6%
1970                      66,870              77.3%
The Danish Plan, passed by voters in 1976, had some hand in slowing the growth, though Danish noted that the Council in 2000 amended city growth control by exempting "all residential construction in certain business zones — like the 28th/30th street area — and on any property rezoned as residential." But the growth rate by census decade has yet to exceed 14.7% since then, and to date Boulder maintains some semblance of small/medium-sized city character.
Gilbert White, floodplain planning: We all learned about Boulder's vulnerability to dangerous flooding for sure in 2013, but it's been no secret since long before then. Canyon Boulevard was once known as Water Street for a reason, and we have a number of other major drainageways coming down with momentum from higher elevations throughout town. Gilbert White once studied floodplain management along the voluminous Mississippi River, and eventually came to Boulder and lent his expertise to help make sure we make practical plans for the inevitable – in turn minimizing hazards to human life and encouraging hard thought before developing in or near a floodplain.
THE PARADIGM, AND THE PARADIGM SHIFT
In short, the above all added up to create a broad structure, or even a paradigm, of slow growth. Call it "smart growth," "managed growth," "growth limitation," whatever suits your frame, but we've had a history of making development decisions with careful thought, a framework of standards, and community involvement or activism. Unlike other growth-hungry cities in Colorado, we turn something down or adjust its size once in a while. We've approved a lot too, and I'll get to that.
But when Rip Van Winkle came back to Boulder, he noticed a new appetite for growth and to fight against growth management. Perhaps it started in the 2015 election, when I started reading unfair and mean-spirited comments about NIMBYs. There is power in the choice of words, so ask yourself – what is the difference between a "neighborhood activist" and a NIMBY? Boulder has long been a community of activists, often leading to good results, yet all of a sudden it started to seem as if homeowners who have paid their 30-year mortgage with all associated taxes should no longer have an opinion about the neighborhoods they have lived in for decades.
There are serious debates taking place on social media right now (October 2017) about the technical positions Council candidates are taking on some of the growth measures I listed above. It's fair to say that the 2017 candidates don't publicly favor overturning voter-approved City Charter provisions, with perhaps small hints that building height limits might not be eternally sacred. However, I've lived here for a long time, and I've heard plenty of anecdotal support in the community for taller buildings in town – at least one candidate mentioned it to me on the record back in 2007 – and for up-zoning low-density neighborhoods. Whether serious proposals or not, the Camera reported on a concept for 90-foot buildings in East Arapahoe, a Better Boulder founding member tweeted that Boulder should grow to 250,000 people, another Better Boulder member somehow channeled Ruth Wright (I assume she was not interviewed) to suggest there should be no impediments to 5-story buildings, and for God's sake the Hogan-Pancost proposal is still alive despite decades of warnings about the impact development there could have on property due to groundwater and flooding issues.
Also, Hogan-Pancost is back under discussion again despite lessons learned during 2013 in Boulder County, and fresh examples of the dangers of water in 2017 from Houston, south Florida, and Puerto Rico. I feel awful for the poor Hogan-Pancost neighbors who have had to attend hearing after hearing every time there's a new proposal, giving the same common-sense warnings, and I hope Council will have the sense to put this thing down for good.
For certain long-term locals, myself included to a certain extent, the nibbling away at the old paradigm has been a shock to the system, and I believe some of the newer folks in town don't understand the internalized passion among people who actually fought some of the old battles. In local discourse, it seems like "slow growth" is getting demonized while "growth is good" has become slightly dominant – though the 2017 election results might show if that's accurate. The old Biblical word "begat" comes to mind. Perhaps PLAN-Boulder begat Open Boulder, due to its long period of dominance. I'd guess the formation of Better Boulder begat Livable Boulder and Ballot Questions 300 and 301. The One Boulder coalition of 2015 probably begat Together4Boulder of 2017.
And I'd suggest that the public entry of Dan Caruso of the Zayo Group into this election cycle, by forming Engage Boulder, begat some of the money being donated to T4B to counter the expectation of Caruso's riches putting a big thumb on the scale of campaign finance. As of Oct. 12, the T4B/PLAN "side" was indeed out-funding the Engage/Better/Open Boulder side for the Council race, but Caruso and his wife had just put $4,000 into defeating the muni (we don't have campaign finance limits for issue campaigns), and of course it's premature to declare the Council fundraising battle over with a month to go in the cycle.
WHAT PRICE GROWTH?
I will say for anyone who cares to believe that I'm a slow-growther, not a no-growther. Since I've lived in Boulder, it has never actually been a no-growth community despite perceptions. Last decade, I covered or witnessed the development of the entire new Twenty Ninth Street retail district and its new on-site housing, along with One Boulder Plaza, the Holiday Neighborhood, Cox Corner, Steelyards, St. Julien Hotel, the retail center across 28th from Twenty Ninth, Uptown Broadway, Wolf Law and new buildings on CU's East Campus, residential "pops and scrapes," and more. Perhaps not everyone remembers, but the concept that density would be part of the future for areas near 30th and Pearl and to the east was in the news last decade as part of the Transit Village Area Plan (TVAP) process. I support having the new Google campus near there, which will be a new spectacular addition to the city, and must say that Google itself is not a new addition to Boulder since I worked across 26th from it last decade, and it then took over the old Colorado Daily building.
There is no doubt in my mind that Boulder needs some amount of housing, and some of the development in the TVAP area will help with housing supply. However, I tend to differ with certain local opinions on the benefit of building as much as we can.
First, it just won't create affordability by itself. Supply and demand is not some magic "X" on a chart that always produces optimal price results – since when in practice it's at times "supply and demand plus a license to print money," the 2-dimensional model is no longer accurate or useful. When national-level investment firms can buy local apartment complexes for $3-400,000 per unit, there is simply no way investors looking for ROI will allow large amounts of attainable rental rates. I feel really bad for the young people and low-middle income earners who can't afford to live here, but do the investment firms? As it stands today, public-sector regulation or ownership remains the most significant factor in local affordable housing, and the slow-growth meanies in Boulder are among those who have supported our affordable housing programs going back decades.
Second, I take the notion that Boulder density will impact climate change with a big grain of salt. There's some truth to it if a person spends nearly all of their time in Boulder, and practices a car-free, energy-efficient lifestyle. But we talk about housing in context of 60,000 in-commuters coming into Boulder five days a week. They're in-commuters, and it's only a problem because they're driving – it's delusional to suggest that they're in large numbers just going to get rid of their cars if they move to Boulder. Higher population in our basically affluent city will certainly mean more local congestion, even if some small percentage of newcomers practice the stereotypical and somewhat oversold Boulder lifestyle. Boulder is also farther from Denver and the I-70 corridor than many Front Range cities, which means more VMT if a new Boulderite travels basically anywhere major in Colorado except Longmont or Ft. Collins by car. Boulder's population is just over 100,000, so again it's delusional to think that adding say 5-10,000 people here, even if everyone's on their best behavior (which they won't be), will offset the 6.6 million in Houston, or even the 600,000 in El Paso County, when it comes to global warming.
And let's be clear – some (no, not all) of the folks talking "green density" do not support doing whatever it takes to address climate change, since they're fighting against the municipal electric utility that could reduce a large percentage of the city's fossil fuel use for electricity every year.
I am not an anti-capitalist, but I think it's time for Boulderites to admit that money is behind some of the calls for growth, and to stop falling for the misleading economic arguments and greenwashing. It's also time for areas close to Boulder to adopt some of Boulder's ideals. Couldn't 10 percent of the in-commuters find a way to use transit or carpool, offsetting the perceived need for a few thousand housing units in Boulder? Wouldn't a 15-minute neighborhood in Broomfield or Longmont do the same toward managing climate change as one in Boulder? Couldn't some of the larger businesses in Boulder buy a few electric/hybrid shuttle vans and move employees from transit stations like NCAR does? I commuted for many years using public transit – it's not the end of the world – and if congestion and climate are really our issues, one isolated strategy can only dent the problems. In my opinion, it's somewhat misguided to castigate long-term residents for caring about growth and neighborhood character if the broader benefits of change are overstated and marginal.
The most recent Daily Camera City Council endorsement editorial in essence suggested slow-growth locals are campaigning based on "fear" and feel that Boulder's "going to hell in a handbasket." Unfortunately, I know from experience as a writer that writers like functioning inside of a narrative. Perhaps speaking only for myself, I still love it here, and I've been to a lot of other places in the world. I am comfortable in knowing that issues of the future will still need to pass through whatever remains of our demanding public process. I'm in no way afraid of Boulder's future (though truly worried about the nation), but I will speak out if proposals seem extreme – and I think all but the hardest of the hardcore slow-growthers are more or less on the same page as I am.
COUNCIL RACE: HOW FAR CAN THE SCALE TIP?
I started a few thousand words ago with the 2017 Council race and would like to finish there, beginning with one question – do you care about political balance? Let's look at the four sitting members who don't have to run again this year – Yates, Brockett, Jones, Morzel – and see if it doesn't look a bit like near-perfect balance among the four. Next, seriously imagine what happens to balance if either five-person slate wins all five open seats.
I have my leanings, but also know that the next Council will do much more than encourage or limit growth. I want a group with skill sets, potential, the ability to listen, and diverse viewpoints since they will make big decisions on much more than a single issue throughout their terms. Former Council member Richard Polk once told me that while he believes in his own talents, he wouldn't want "nine of me on Council," and that's about where I stand when it comes to my own political identity. I get that the existence of slates will naturally lead to people engaging in slate voting to offset the other slate, but I sincerely hope lots of people will look at our future a bit more holistically and think deeply about more candidates than the five in either slate.
I look back with great fondness on covering local politics, because the issues really are more nuts-and-bolts compared to the sweeping value-based generalizations you get on the national scene. I loved the "hopper of ideas" I experienced by interviewing 14 individuals and attending forums, as opposed to the tired and predictable Republican vs. Democrat dogmatic talking-point-heavy arguments (though we certainly have some dogma here). And all voters can still do some semblance of what I did without even leaving the house. You can read my candidate profiles and/or those from Alex Burness of the Camera, or visit candidate websites – some of which will have questionnaire answers to help you really evaluate positions. It makes me sad to think some voters will decide on the future of their community based on "I saw a slate on Twitter" or yard signs, though I know it's sad but true. I sincerely hope people will instead apply some of Boulder's legendary scholarly rigor to the process of choosing our next Council.