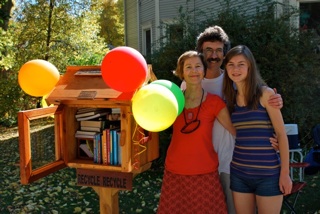 Visit Lucky's Market this coming weekend for some real good fun, food, music, community and, of course, books!
Saturday, September 22, from noon until 4 p.m., Lucky's will host a barbecue with all proceeds going towards the cost of the first Little Lending Library. Tinker Arts and Realities for Children will be offering fun art projects for kids. Musician Dave Williams will perform great music.  Margaret Porter will be on hand from North Broadway Community Forum, talking about our neighborhood and how we can all work together to make this the best neighborhood!  Tee Parham from Neighborland will be on hand talking about his initiative to help promote great ideas in North Boulder.
Sunday, September 23, 10 a.m. to Noon is the official ribbon cutting ceremony for the little library. Library Director Valerie Maginnis will be arriving with the first books chosen especially for our little library.