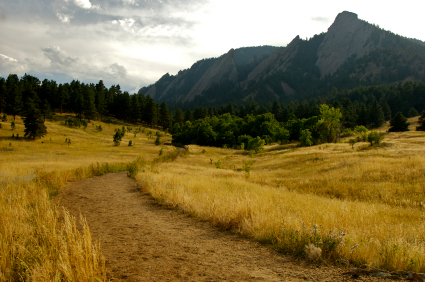 This post originally appeared in the Blue Line's 2012 April Fool's issue.
In a bold move yesterday, PLAN-Boulder County issued a press release claiming credit for the Flatirons. "We are responsible for all things good about Boulder," read the document, "including its beloved Flatirons."
"If you couldn't see the Flatirons it would be like they didn't exist," reasoned PBC spokesperson Juan Storey. "Therefore, since you can see them that is the same as us creating them."
The Boulder Mountain Bike Alliance disputed the claim, issuing a press release of their own. "If anyone can claim credit for the Flatirons, it's us," read the statement, "After all, our name includes the word 'mountain'. You have to ride on them for them to exist. It is like the sound of one hand clapping. "
Local scientists point out that the Flatirons are an ancient geologic feature and are probably not due to the influence, however strong, of either group. Both groups deny the existence of local scientists.
In a related story, Boulder Creek has been claimed by Trout Unlimited.